Berlin
Twenty years after its post-Wall renaissance, Berlin is an attention-grabbing fusion of charm and grit, teeming with impressive museums and art galleries, grand opera and sizzling nightclubs, gourmet dining and ethnic eateries. Whether your preferences lean toward the elegant or grunge, Berlin doesn't disappoint. When it comes to style, the arts, architecture and music, the German capital is in the forefront. An international influx of inspired artistes has transformed Berlin into a cauldron of cultural ultra-cool; evocative of 1980's New York. What entices them is Berlin's established reputation of tolerance, candidness and experimentation fused with an edgy nuance that lends this eternal "work in progress" credibility. In spite of its frequently frenzied pace, Berlin behaves on a benevolently human level. The traffic flows easily, and the public transportation system is exceptional. It is safe to walk through the city at night, and the cost of living is affordable.
The Ddr Museum
The Ddr Museum is where one can learn about the way things were behind the Iron Curtain. For example, toddlers learned the proper use of the commode via group-potty-training, farmers and engineers brought home identical salaries, and excursions to nudist camps were the prescribed vacation destinations. The Ddr Museum is a must-see for the anti-Lenin.
Brandenburg Gate
An icon of separation during the Cold War, this attraction now symbolizes German re-association. The structure was designed by Carl Gotthard Langhans in 1791 and is the sole remaining of 18 city gates still in existence. The Brandenburg Gate's finishing touch is the Quadriga sculpture; a horse-drawn chariot escorted by the winged goddess of victory.
Schloss Glienicke
Glienicke Palace, located at the tip of far southwestern Berlin, is an example of what can happen when of a rich kid journeys to Italy and literally, falls in love with it. Prince Carl of Prussia was at the gentle age of twenty-one when he returned home to Berlin; dizzy with dreams of building an Italian villa of his own. He enlisted Schinkel to transform an existing mansion – surrounded by a sprawling, quixotic garden – into a sophisticated, antique-styled compound. Hence, Schinkel expanded the existing mansion. He converted the erstwhile billiard hall into a casino, constructed an Italian villa with twin gazebos. Next, he added two marquees: the Kleine Neugierde or 'Small Curiosity' and the Grosse Neugierde or 'Big Curiosity.' The palace itself is lavishly adorned with marble fireplaces, crystal chandeliers, paintings framed in gold and the finest furniture.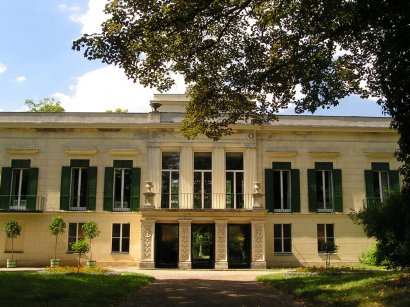 Climate
Summertime in Berlin are warm and occasionally humid with average temperatures of 72–77 degrees F, and lows of 54–57 degrees F. Winters are cold with average temperatures of 37 degrees F and lows between 28 to 32 degrees F. You will find spring and autumn to be chilly to mild.